Trade Finance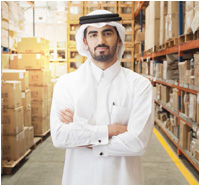 Getting the right Trade Finance support is half the work done
We offer Trade Finance Solutions that are designed to minimize your worries and maximize your business and financial potential.
Letter of Credit for flexible and convenient payments.
Documentary Collection is flexible and less formal.
Guarantees to facilitate your business activities.
Adding confirmation to Export L/C as per the request of Issuing Bank / Beneficiary, to prevent country and/ or bank risks.
Local and foreign bills discounting for fast & smooth payment solutions.
Factoring to facilitate efficient collection of account receivables domestically & internationally.
Manage all your domestic and international trade transactions professionally and with ease using our suite of products and services
From letters of credit and bills for collections to letters of guarantees, LCs' refinance, and other products of a specialized nature, you can manage all your domestic and international transactions. Through our large network of domestic and international correspondent banks and branches of Emirates NBD, we offer complete solutions and an efficient service to meet the total needs of our customers for import, export and domestic trade.
For more information:
Call now on +966 11 282 5667, +966 11 282 5564, +966 11 282 5565
Email: KSATradeServicesTeam@emiratesnbd.com